This history lesson is anything but boring. Why, you ask? The subject is… Megg, also known as Bobbi! You probably already know that she is leaving the Club Penguin team after four years. Back then, some older penguins and I got the opportunity to experience Bobbi's journey from the beginning as a penguin named Megg.
If you were there, then this should be a nice refresher! If the following history is new to you, I hope you are able to imagine the journey as if you were there to experience it. I have noticed in the modern CP Twitter community that many of you may not have been active in those earlier years of Megg's journey. I will try to explain the history as clearly as possible, since I was present and active back then. Maybe you can grade your history teacher for today's lecture. 😉 It's gonna be fun and will have loads of media and pictures for you to soak in. I hope you learn new things from Megg's journey from what I wrote based on my experience and the archives from the helpful people from the Club Penguin Fan Wikia.
2013
Back in 2013, Megg was not as well-known as she has become. Two employees, Chris Gliddon and Johnny Jansen, known by their penguin names as Polo Field and Businesmoose, respectively, were the key figures representing the community. They were famous for their fun sneak peek videos. This is one of my favorites:
The Club Penguin fan community started to become aware of a person named Megg through some public Twitter posts from the Club Penguin account in October 2013.
As an intern, she even met the co-creator of Club Penguin, Lance Priebe!
Interesting fact: At this time, the community thought her real name was Megg. I forgot exactly when we learned it was Bobbi.
Her presence became very evident when a Club Penguin original web series came out in December 2013. This series was called the Spoiler Alert. It was a goofy way to… well, the name says it all, spoil what was coming in the updates.
It was also during this time that the Club Penguin team was represented by a new team: Polo Field/Chris, Megg/Bobbi, and Ninja/Cory. Polo Field, the community manager, and Ninja, the video specialist, were her mentors while she was new at the Club Penguin company.
2014
In January, her presence immensely grew! And so was her popularity amongst the community. She was not only one of the main hosts of the Spoiler Alert, she also unleashed the…
This was her way of seriously introducing herself to the community! It was fun for all of us. Basically, she was the manager of Club Penguin for a few days, letting Spike Hike have, I guess, a little vacation from his position. Additionally, fans made outfits so that they would resemble hers as closely as possible. There was more involved, but that's the gist of this takeover. 😛 (And when you thought all takeovers were affiliated with Disney products… wrong!)
Even the English language had been taken over by the one and only Megg.
I even made this ridiculous and somehow pleasurable-to-look-at Megg Superhero Takeover thingy. I thought she was just as amazing as a superhero! (I never was a big fan of Marvel anyway).

Megg was being increasingly active online on Club Penguin during this time, too. It had been a great experience to help out the intern while we met and chatted with her.
Megg had also been taking over Ninja/Cory's Twitter account for quite a while, which lasted much longer than the Megg Takeover. Ninja had not been using it much and Megg insisted that she did not need her own Club Penguin Twitter account. We'll see about THAT! After some time, she was using Twitter on a frequent basis, so she made @clubmegg. You can still read her tweets from there. The account was very active during 2014, but in early 2015, it slowed down and eventually, she stopped tweeting from there altogether. This was because well-known Club Penguin employees had their own Twitter accounts, but they made the decision to tweet together from one place only, from the Club Penguin Twitter account. The purpose was to remove the feeling of being spread around Twitter too much as representatives of the team.
For a reason I am not aware of, Ninja's Twitter account was deleted some time ago and now no longer exists. The handle was @ninjachat3.
We had fears that she would leave the team early since she was an intern. However, in September of this same year, those fears became a thing of the past. Megg's time at CP as an intern were over… because she became an EMPLOYEE! Everybody was so happy for her!
This may be a random fact to you, but she also said "holla" a lot. But not really anymore. Wanna know how big the "holla"thing was at the time? When Billybob/Lane Merrifield, another Club Penguin co-founder, made a special appearance in the Spoiler Alert show, even he said "holla" in a blooper!
2015-2017
In 2015, Megg became the community manager after Polo Field left the Disney Club Penguin company. She has been a wonderful successor as a community manager. Throughout the next couple of years following the eventful 2014, Megg aka Bobbi had represented the community in influential and inspiring ways. As a role model, she has a young and bold personality. Not only was she so fun in the Club Penguin community, she also shares her life of vitality occasionally about her non-penguin life with @BobbehJean. From attending meetups to making videos to chatting with us penguins, she made everybody in the community feel comfortable and happy.
She is a special, amazing person in so many ways. One of these ways is how she is not afraid to admit her mistakes. I noticed this ever since she became an intern. We are not perfect. Bobbi emphasizes through her decision to share her mistakes that it is okay to make them. Not all the time, of course. But we always have room to improve ourselves. I look up to you, Bobbi, for that! Megg is admirable and awesome, for sure.
It's 2017. As we all know now, she is leaving her job at Club Penguin. Keep in mind she is not leaving the community, though. In other words, she will be moving on to different adventures, but she has not forgotten her past as a penguin. Let's try to stop the waterworks and instead cheer her on for her past accomplishments, reminisce good times, and wish her the best for her future.
Here is a gallery of the history lesson of Megg for your enjoyment and entertainment with informative captions:
Megg's first iconic outfit. Who remembers this?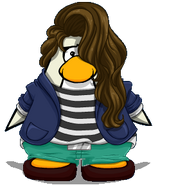 Her second iconic outfit. Most penguins probably remember this.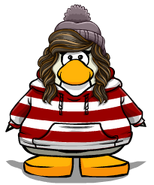 A refresh of her Where's Waldo outfit in Club Penguin Island with some extra flair.
She was a shining star in the silly Moderator Rap Battle.
Behind the scenes of the making of her famous hoodie-flip scene. From left to right: Cory/Ninja, Bobbi/Megg, Chris/Polo Field. Click here to watch the hilarious, tummy-hurting bloopers of the scene.
The early days of Bobbi at the Club Penguin offices. (This was for a Spoiler Alert episode).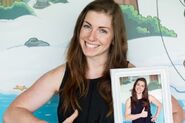 And her several years after that photo. She had a lot of fun in New York City earlier this year!
Thank you for reading. Again, I hope that you learned something new! Since I was there to experience her early days as a penguin, I am very happy to share some cool facts about them. You could also be feeling a lot of nostalgia. I am, too.
Here is my letter to the Meggnificent Megg/Bobbi: